Before commencing with the next lesson, I will respond to a reader query:
Dear Bollywood Goddess,

What is "mujhse," as in "mujhse kaho" in the title track "Main Hoon Na"?

Love,

Grub

The short answer is, it means "to me." "Se" is a complex post-position, and depending on context, can mean "to," "with," or "from." I'll probably do a separate lesson exploring post-positions in greater detail. "Mujhse kaho" means "say to me," (kehna means "to say," and "kaho" is the imperative form), and it will generally take or imply a direct object. Mujhse kuch kaho -> Say something to me.
Keep the questions flowin'!
And now for the number lesson. There is a 1988 song from the film Tezaab that will aid greatly in learning numbers 1-13. It is called "Ek Do Teen," and is one of the most famous Bollywood dance numbers of all time, starring the one and only
Madhuri Dixit
.
Ek
- One (pronounced like the English word "ache")
Do
- Two (pronounced "though")
Teen
- Three
Chaar
- Four
Paanch
- Five
Chhe
- Six
Saat
- Seven
Aath
- Eight (pronounced Aaht)
Nau
- Nine
Das
- Ten (pronounced "thus")
Now for some "special" numbers.
Lakh
- 100,000; according to the
Indian numbering system
, this is written as 1,00,000
Crore
- 100 lakhs, or 10 million, written as 1,00,00,000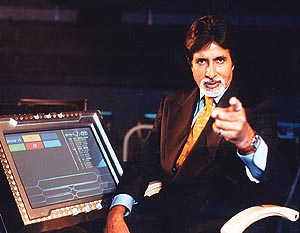 In July 2000, Bollywood superstar
Amitabh Bachchan
(affectionately termed "The Big B") began hosting a show inspired by "Who Wants to be a Millionaire" titled "
Kaun Banega Crorepati?
"
Kaun
- Who
Banna
- To become [Banega- will become]
Crorepati
- Wealthy person [Pati literally means "husband," so someone married to ten million rupees]
Chalo then, until next time!